60° 43' Nord
As a child, Romain Delahaye was in the habit of contemplating the sea. The tireless rolling of the waves constantly nourished the imagination of the young Parisian, born in 1979, as he spent holidays in his family house of Cancale, Brittany. Like an odd premonition, on a winter morning in 2013, only a few kilometres away in Saint-Malo, he boarded the trawler Joseph Roty II for a very special journey, fleeing his native town of Grenoble and its "narrow valleys". Aboard this 300-foot colossus, the musician loaded several hundred kilos of gear - six keyboards, two guitars, three mics, seven effects pedals, a computer, a mixer, speakers and a beat box – to play, record and mix an album in the middle of the temperamental North Atlantic Ocean.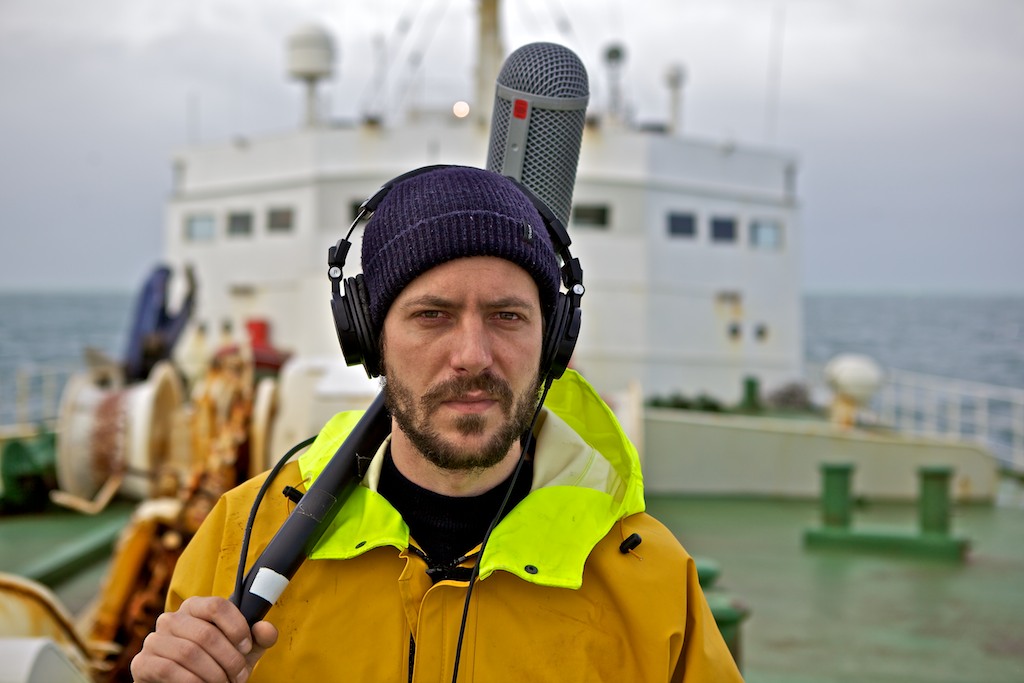 After 34 days with no stops, 4896 nautical miles and 56-foot breakers, 60°43'Nord (his highest position in the Ocean, 143 miles off the coast of Scotland) appears like an artistic and personal quest (creation in extreme circumstances, confined to a small space over an endless horizon), like sonic anthropology (he shared the space with about 60 Portuguese, Polish and French fishermen), an ad hoc composite work. "Picture Matthew Herbert and François de Roubaix on a boat", says Pedro Winter who was excited by the project and decided to publish a collector vinyl album on his label Ed Banger in 2015. This enterprise by Romain Delahaye aka Molecule is impressive because it initiates a totally novel creative process mixing the industrial sounds of a trawler at sea (the motor, the cables, the sound of fishing, of the hull riding the waves) and the sounds of the open sea (the swells, the wind, the breakers) in a techno crossing through the ocean between immersive ambient and Berlin rave. "I've always seen music as a way to live my life. It already allowed me to live on the edge of society, of routine, and left me free to pursue my most intimate impulses, whatever the cost". Molecule, a lone sailor? That would be too simple. For, even if he is often viewed as an oddity in the musical landscape, for a long time he was part of the dub and abstract hip hop scene of the aughts. Hit by the wave coming from London and Bristol (Massive Attack, Tricky, Portishead), the French producer often crossed paths with the vibrant French scene (High Tone, Zenzile, Ezekiel) before taking a more techno route in 2010. "After Pink Floyd, my all time favourite records, the ones that hit me hard, were Daft Punk's Homework and Maurizio's music (and the label Basic Channel). After 1997, techno was never the same again". Self-taught and in a league of his own, the Paris-based artist decided to take a break after his fourth album in 2010 and the birth of his daughter. Faced with the uncomfortable feeling of going round in circles in the capital, he took a different path, as he did in 2002, and quit his psychology studies to focus on music. " It's very important for me to learn by doing things, to play around with mistakes, having basic knowledge but being able to totally let go at some point ". 60°43'Nord is much more that just another electronic record; it bears the mark of a truly adventurous producer who has shed his urban gimmicks. "I took no records on board the ship, to cut myself off from any influences, to reboot, to turn my whole creative process on its back. Baudelaire said Free man, you will always cherish the sea". Molecule will carry on contemplating the sea and we will be following the musical odysseys of Romain Delahaye for a long time.
60°43'NORD AT THE TRANSMUSICALES FESTIVAL
5th December 2015, 4:45 a.m. At the helm of his keyboards (Buchla, Analog Four and Minimoog), of his TR-8 beat box and with a 50-foot screen above him, Molecule plunged the humungous Hall 9 of Rennes's Parc des Expositions into the furious storms of the Atlantic Ocean. The 7500 spectators were submerged by a relentless live show where the journey's images merged with Molecule's powerful beats and loops. "Renne's Transmusicales is a legendary festival", says Romain. "It's an important threshold in a musician's career. I'd played at the Bars en Trans in 2008, but playing 60°43'Nord live for the first time for the closing of the official festival in front of such a huge crowd was an incredible emotional ride! And the fact that it happened in Brittany was like a direct link between my Cancale roots and the homeport of the Joseph Roty II in Saint-Malo, so there was a certain amount of personal pride for me there ".